[Massive protests of government policies favoring the rich have seen government repression , and denunciations by the goverrnment of the opposition as "extremist."   — Frontlines ed.]More than 100,000 join demonstrations as students seize 30 polling stations to be used for presidential vote on Sunday
Jonathan Franklin in Santiago, guardian.co.uk, Thursday 27 June 20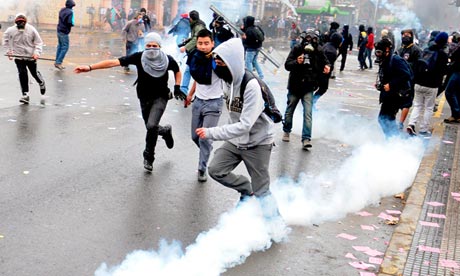 Hooded protesters have vandalised shops and fought running street battles with riot police in Chile's capital after more than 100,000 joined mostly peaceful demonstrations across the country to demand education reform.
The violence began early on Wednesday when masked youths attacked a police station and left burning tyres at road junctions hours before thousands of university and secondary school students marched through central Santiago.
While riot police battled a flurry of rocks and molotov cocktails, students seized an estimated 30 locations scheduled to be official voting sites for Sunday's presidential primary vote.
The president, Sebastián Piñera, warned the students that squads of riot police were prepared for massive raids if the students refused to peacefully surrender the voting areas. "We are not going to let a minority, jumping over the law, pretend to usurp the 13 million Chilean citizens who have a democratic right to participate [in elections]," he said.
"They are not students, they are criminals and extremists," the interior and security minister, Andrés Chadwick, said. "They have acted in a co-ordinated and planned way to provoke these acts of violence."
Police arrested 102 people and four officers were injured.
The students were led by Moisés Paredes, a high school leader who held a press conference suggesting the government find an alternative location for their elections. The face-off between the billionaire businessman turned president and teenage student shocked many older Chileans who wondered aloud who was in control.
"We are talking about underage children who by law are not able to vote nor buy a pack of cigarettes. Children who need their parents' permission to leave the country … who can't by law even drive a car," wrote Teresa Marinovic, in the influential online newspaper El Mostrador.
The rejection of Piñera and elections in general is part of a broad attack on politics as usual. As in neighbouring Brazil, Chileans of all ages have joined the protests, which are driven by a range of issues. In Chile, marchers have demanded a wider redistribution of Chile's copper wealth, a reform of the educational system, which would put the state back in control of mostly privatised public universities, tax increases for the rich, and the legalisation of marijuana.
While protests are hardly new in Chile, where the 1980s were notable for massive street uprisings against the military government of Augusto Pinochet, the current protests are more diverse.
Much of the energy comes from the ranks of public schoolchildren aged 14-17. Though not old enough to order a beer, they are connected by Facebook and able to marshal massive marches and flashmobs in the hundreds when a single friend is arrested and held by Carabineros de Chile, the national police force. Instead of football or skateboarding, teenagers often gather after school in public parks to draft declarations and manifestos.
In the hours before the national march, students attacked and briefly occupied the ministry of education. Another group protested outside Codelco, the state-run copper mining company, with signs reading "Copper for Education" in reference to Chile's massive revenue from copper exports and student demands for free university education for all.