Bangladesh bosses plead to Western firms after tragedy
The heads of Bangladesh's textile companies pleaded with foreign retail giants to keep doing business with them after a recent factory collapse that killed nearly 400 people. Bangladesh's $20 billion garment industry is the second largest in the world behind China.
AFP, Monday Apr 29, 2013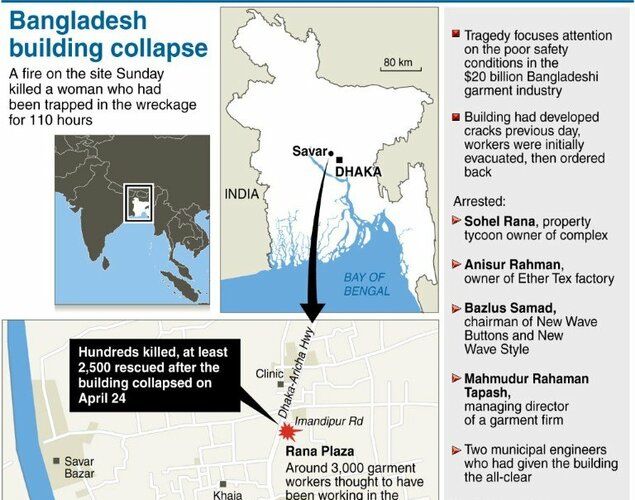 Bangladeshi textile bosses pleaded Monday with Western clothing giants to keep doing business with them after nearly 400 people died in a factory collapse as hopes of finding more survivors faded.
Organizers of the mammoth rescue effort ordered in cranes on Monday to clear the ruins of what was once an eight-story factory compound before it caved in five days ago while some 3,000 textile workers were on shift.
As Prime Minister Sheikh Hasina paid her first visit to the tangle of concrete, the confirmed number of dead stood at 382.
But the toll is expected to shoot up now heavy lifting equipment is being used. Rescuers had earlier been wary of using anything but hand-held drills, over fears that machinery could force more masonry to collapse onto survivors.
Emergency workers, who have been battling the stench of rotting corpses, were shattered by the death late Sunday of a female garment worker who had clung to life against the odds before being overwhelmed by a fire at the scene.
The tragedy has once again focused attention on the poor safety conditions in the $20 billion Bangladeshi garment industry, which is the world's second biggest after China.
Britain's Primark and Spain's Mango have acknowledged their products were made in the block. Italy's Benetton acknowledged having its clothes made in Rana Plaza recently, but claimed it was a "one-time order".
Worried that Western firms could look elsewhere, manufacturers met with representatives of leading brand names on Monday in a bid to assure them about safety standards.
Shahidullah Azim, a vice president of the Bangladesh Garments Manufacturers and Exporters Association which represents more than 4,500 factories, said firms such as H&M, Gap, C&A and Li and Fung would be present at the meeting in Dhaka. (more…)
Filed under: Bangladesh, British colonialism, Comprador, Economic crisis, Economy, Health, Imperialism, International, Neo-colonialism, People's struggles, Proletariat, Working Class | Tagged: garment worker, minister sheikh hasina, rotting corpses | Leave a Comment »